Explore Mars and Yuri's Night Team Up for Mars Landing Parties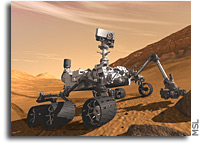 BOSTON (July 9, 2012) – Explore Mars and Yuri's Night invite people, organizations, and groups from across the world to join in celebrating the landing of the Mars Science Laboratory (MSL). Explore Mars has partnered with Yuri's Night to coordinate landing parties all over the world to coincide with the landing of MSL – the most ambitious mission ever to land on Mars.
On August 5, NASA's MSL — named Curiosity — will land on Mars and begin its 23-month-long science trek across the 'Red Planet.' The Curiosity rover will search for evidence of conditions favorable to microbial life, sampling rocks, terrain and climate to gather clues about possible past life on Mars. Curiosity is scheduled to land on Mars the night of Sunday, Aug. 5, 10:31pm PDT/11:31pm MDT/12:31am CDT/1:31am EDT. Using precision landing technology, the rover is headed for a recently narrowed target ellipse at the foot of Mount Sharp in the Gale Crater.
"We are very excited to team with Yuri's Night to celebrate the Mars landing on August 5," stated Explore Mars Executive Director, Chris Carberry. "We hope that groups around the world will celebrate with us. Whether you have a group of three or three hundred, we encourage you to organize a local party and invite your friends, colleagues and co-workers. Landing parties can take place at local restaurants, brew pubs, coffee houses and may be organized by citizens in their localities."
Yuri's Night is providing the vital registration services and logistical support for these celebrations. According to Yuri's Night Executive Director Ryan Kobrick, "Yuri's Night, the World Space Party, is uniquely suited to help organize and promote space-based celebrations of all shapes and sizes, and we look forward to the successful landing of the Mars Space Laboratory in August!"
This program is part of a larger "Get Curious" campaign that Explore Mars is rolling out in the weeks prior to the MSL landing. The campaign's goal is to help build excitement not only about MSL, but also about the prospect of human landings in the next two decades.
Registration for MSL landing parties officially opens today at www.GetCurious.com/parties, and a full list of registered events can be viewed at http://yurisnight.net/explore-mars-events/.
*****
Recent Explore Mars Articles
"Put humans on Mars by 2030" US News and World Report – http://www.usnews.com/opinion/articles/2012/07/09/put-humans-on-mars-by-2030
"The economics of Mars: It's time to be bold" San Jose Mercury News http://www.mercurynews.com/opinion/ci_20976582/chris-carberry-economics-mars-its-time-be-bold
"Why ISS can advance Mars exploration" The Space Review http://www.thespacereview.com/article/2081/1