ESA studies future of Europe's launch services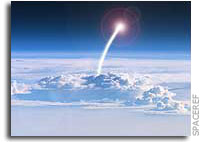 Today, Europe enjoys autonomous access to space, while holding a leading position in the world launch services market. ESA has begun work on a new strategy to ensure that both can be maintained sustainably in future.
ESA has begun investigating the feasibility of a new approach for European access to space, aimed at making Europe's launch services fully self-sufficient over the long haul. The idea behind this New European Launch Service – NELS – is to deliver competitive launch services to both governmental and private European customers while keeping pace with the rapidly changing worldwide launch market.
Today, Europe is guaranteed access to space and offers services to customers worldwide through a versatile family of launchers: Ariane 5, Vega and Soyuz from Europe's Spaceport in French Guiana.
While this approach has been successful so far, the risk is that it becomes less sustainable economically later down the line.
The projected likelihood is that – despite continuing work to reduce the cost of launch services – the trend towards larger geostationary satellites coupled with increasingly fierce international competition will mean public money will be required on a continuous basis to fund the costs of maintaining assets in operational conditions in order to preserve autonomous European space access with the current family of launchers.
So, the preferred option is to ensure the continuation of industrial activities in production and to start developments that will prepare for the next generation of launch vehicles.
ESA recently issued an Invitation to Tender for an industrial feasibility study for NELS. This 12-month study will define the future European launch service sector, responding to market needs not only in terms of missions, performance and payload accommodation but also availability, reliability, cost and the time these new launch services will take to reach the market.
In turn, to ensure the NELS blueprint is truly responsive to the needs of European space users, a detailed list of requirements was drawn up by ESA in close consultation with European governments and telecommunications satellite operators – the main private customers for launch services. Two industrial teams were awarded study contracts through a competitive procurement process.
The first team, led by MT Aerospace in Germany includes OHB Systems AG (DE), Roland-Berger Strategy Consultants (DE), Astos Solutions GmbH (DE), Snecma SA (FR) and Herakles SA (FR).
The other team, led by Astrium ST in France, includes Avio SpA (IT), Sabca (BE), Sonaca (BE), ETCA (BE), Air Liquide (FR), AlixPartners (US), Snecma (FR), Herakles (FR), Zodiac Data Systems (FR), Astrium GmbH (DE), MT-Aerospace (DE), Premium AEROTEC (DE), Stork Aerospace (NL), CASA Espacio (ES), RUAG (CH and SE), Surrey Satellite Technology Ltd (GB) and Paradigm Secure Communications (GB). The parallel studies began at the start of July. Their preliminary outcomes will be ready by the end of September, to provide useful inputs to ESA Member States as they prepare to make decisions on future launcher development activities at November's ESA Council at Ministerial level.