Element 21 Golf Company's Message Is Out of This World!
TORONTO — 02/09/06 — Element 21 Golf Company (E21) (OTC BB: EGLF) today reported on its plans to drive a golf ball into orbit around the Earth. E21's announcement of its "Golf Shot Around the World Mission" celebrates the 35th anniversary of Alan B. Shepard Jr., historic Apollo 14 Mission.
E21 has developed very special Scandium golf clubs that take their origins from rocket science. So it's only natural that E21 should return to space to finish what Alan B. Shepard, Jr. started with his golf shot on the Moon, proclaiming "Miles and Miles and Miles." The Apollo 14 Mission successfully ended on February 9, 1971. More information is available at http://science.ksc.nasa.gov/history/apollo/apollo-14/apollo-14.html.
Through the collaborative efforts of six nations and members of the NASA, Canadian, Russian space agencies and the Rocket Building Corporation Energy, every single record for distance in the golf industry will be shattered when one of the International Space Station's astronauts will hit an E21 golf ball around the world — using an E21, pure gold plated club. E21 intends to bring the club back to Earth to contribute to a charitable cause. The "Moon Club" 6 iron played by Alan Shepard is on display at the USGA Museum in Far Hills, N.J. http://www.usga.org/aboutus/museum/museum.html
E21 golf equipment is now traveling 300 miles above Earth, and have been onboard the Space Station since September 12, 2005. At 5 miles per second, the E21 Message races through the skies above the planet's 5continents, 300 million golfers and 6.5 billion people. To date it has already clocked over 63 million miles and will continue the memory of Alan Shepard for more and more millions of miles.
After launching the ball in orbit later this year, E21 intends to track the ball by use of active and passive transmitters with detailed global positioning to be available at www.e21golf.com To view the digital simulation of the Mission go to www.e21.ca/media/e21_golf_in_space.php.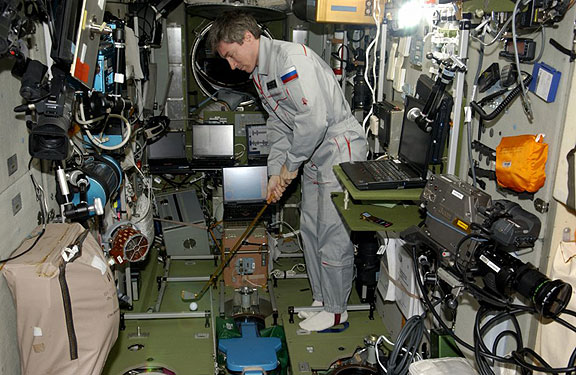 Element 21 Golf Company has also manufactured a very limited number of exactly the same E21 golf clubs that qualified for space travel to the International Space Station. The pure gold plated E21 Scandium clubs will be available as rare and valuable collectibles, numbered from 1 to 321. Coincidentally the E21 Scandium golf clubs are made from the same scandium alloy used in construction of the International Space Station, in applications where high strength and fatigue resistance is crucial. Gold clubs provide the same benefits in play as any other scandium golf club in E21 line up.
To view the actual club played on-board the ISS follow the link at http://www.e21.ca/media/gallery1/index.php?id=1. To view pictures of 24 k gold plated collectible scandium irons that qualify for travel to the ISS, follow the link http://www.e21.ca/media/gallery2/
"Beyond the general interest audience, the Company anticipates that the 300 million strong golf community will enjoy a fascination and active interest with this event," stated E21 President and CEO, Dr. Nataliya Hearn. "The broad international exposure will play a significant role in continuing to develop awareness and demand in key international markets for our driver, irons, hybrids, wedges, putters and future products," commented Dr. Hearn.
As E21's Message generates world-wide interest, golfers will realize that hi-tech, demanding applications in space and on the ground require Scandium alloys over titanium, steel or aluminum, because of Scandium's real and tangible benefits. In recent months these benefits have landed the Company's Eagle One Scandium Tour shaft on the PGA Professional Tour. They have also resulted in the introduction of E21's new "Shock" driver at the 2006 PGA Merchandise Show featuring tighter dispersion and longer drives.
Scandium metal alloy shaft technology also features innovations such as Shokblock(TM). Attested by two leading US orthopedic surgeons, ShokblockTM reduces the impact of vibration on hands, elbows, shoulders and the entire body of a golfer by up to 270%, compared to the leading steel shaft on the market. This reduced vibration translates to unprecedented feel of the club through impact. More and more PGA professionals are testing or playing on the PGA Tour with Scandium equipment on an unendorsed basis. E21 is driving shock waves through the industry with a Message — The Evolution is Inevitable! Scandium metal alloy will not be an industry secret any longer.
Please go to www.e21golf.com (free e21 DVD section, under sales tab) for more information on E21's Space Launch program, as updates will become available soon.
About Element 21 Golf Company:
Element 21 Golf Company holds the exclusive rights to proprietary Scandium Metal Alloy, used in manufacture of the new driver and the scandium shafts, as well as a sophisticated multi-technology production path. Scandium Alloy is 55% lighter and offers 25% strength to weight advantage over Titanium alloys, which are the current standards of the Golf Equipment Industry. The advanced dynamics of Scandium and the material economics offer a performance-enhanced alternative to manufacturing driver clubs with Titanium, which is by far the largest segment of the annual 4 billion dollar golf equipment marketplace.
Forward-Looking Statements
Statements in this release, other than statements of historical fact, may be regarded, in certain instances, as "forward-looking statements" pursuant to Section 27A of the Securities Act of 1933 and Section 21B of the Securities Exchange Act of 1934, respectively. "Forward-looking statements" are based on expectations, estimates and projections at the time the statements are made that involve risks and uncertainties which could cause actual results or events to differ materially from those presently anticipated. A number of these risks and uncertainties are described in our reports filed with Securities and Exchange Commissions. There can be no assurance that such statements will ever prove to be accurate and readers should not place undue reliance on any such "forward-looking statements" contained herein.
Company Contacts:
Investor Relations
Element 21 Golf Company
(416) 362-2121
[email protected]
http://www.E21Golf.com
Sales
Element 21 Golf Company
888 365-2121
[email protected]
http://www.E21Golf.com
Media members interested in testing shafts or other E21 products for an editorial review or receiving further information please contact:
Contact:
The Media Group
Joe Wieczorek or Bart Henyan
(847) 956-9090
[email protected]
[email protected]