Discovery Astronauts to Provide Personal View of Flight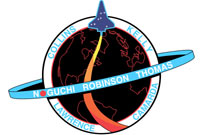 The astronauts that returned the Space Shuttle to flight aboard Discovery will provide the public a personal look at their historic mission at 6:30 p.m. CDT Thursday, Sept. 8, at Space Center Houston.
Media are invited to attend the event, which also will include the flight directors that led Mission Control during mission STS-114 last month.
The free briefing in Space Center Houston's Mazda Theatre will include slides, a video presentation and an opportunity for the audience to ask questions. Doors will open at 6 p.m. Seating is limited and available on a first-come, first-served basis. Once the 580-seat theater fills, guests will be seated in an adjacent area and may watch the program on closed-circuit television.
The first of two Space Shuttle Return to Flight missions, STS-114 included breathtaking maneuvers in orbit, tests of new equipment and procedures, a first-of-its-kind spacewalking repair and phone calls from two world leaders.
Discovery touched down Aug. 9 at Edwards Air Force Base in California. The Shuttle orbiter was returned Aug. 21 to Kennedy Space Center in Florida atop a modified Boeing 747 aircraft.