Democrats Seek Answers on Scope / Timing of FAA Plans to Regulate Safety of Commercial Space Transportation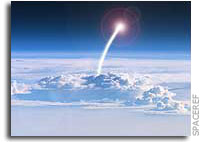 (Washington, DC) — Today, the House Committee on Science, Space, and Technology's Subcommittee on Space and Aeronautics held a hearing to review the Fiscal Year 2012 budget request for the Federal Aviation Administration's (FAA) Office of Commercial Space Transportation known as AST. At the hearing, FAA's Associate Administrator for Commercial Space Transportation, a senior official from the Government Accountability Office (GAO), and a space policy expert from George Washington University (GWU) were questioned by Subcommittee Members on AST's resource needs, role, responsibilities, priorities, and challenges.
In his opening remarks, Acting Subcommittee Ranking Member Jerry Costello [D-IL] said "Congress passed several laws to allow commercial space transportation to develop and we must ensure the industry has proper federal safety oversight. As the number of launches is expected to increase with commercial space tourism and the potential use of commercial space launch vehicles by NASA, it is imperative that the FAA has the proper resources to ensure new technologies and programs evolve safely." With regard to regulation, Representative Costello said that "Congress and the FAA will need to decide how best to proceed with respect to safety regulation of this emerging industry."
Representative Donna Edwards [D-MD] said that she hoped this was just the first of a series of hearings the Subcommittee was holding on commercial space transportation because a number of issues needed to be understood. In that regard, Representative Edwards said that Congress needs to understand the implications of having the FAA as both the regulator of commercial space transportation safety and the promoter of the industry that it is regulating. Representative Edwards noted that FAA used to have the dual responsibility for the commercial airline industry until Congress withdrew FAA's role for promoting the commercial airline industry over the potential for a perceived conflict of interest and so that FAA could focus on safety. She said that as NASA moves forward working more closely with the private sector, the issues of safety, regulatory authority, and liability in commercial space will certainly need to be rigorously addressed to ensure the safety of the public and individuals in space or near-space.
AST's Dr. George Nield said that in the coming months and years it may be necessary to revisit some of the statutes and regulations that govern the commercial space launch activities of the FAA and there may be a need for greater regulatory authority in the areas of transportation on orbit as well as launch and reentry. Dr. Nield also said that while the future of commercial cargo and crew transportation to low Earth orbit is a coming reality, the largest near-term expansion in activity will be in suborbital spaceflight.
GAO's Dr. Gerald Dillingham, Director in GAO's Physical Infrastructure Team, said that FAA anticipates an increase in responsibilities and AST's FY 2012 budget request would increase spending on commercial space transportation by nearly 75 percent from about $15 million in actual obligations in fiscal year 2010 to about $26.6 million in fiscal year 2012. And while he said that GAO agrees that FAA's workload is likely to increase, GAO also believes that there are uncertainties about how fast the demands on FAA's resources will grow.
Space Policy expert Dr. Henry Hertzfeld, Research Professor at GWU's Elliott School of International Affairs, stated that the most difficult future issues will be to regulate commercial in-orbit activities, both for human space flight as well as for other purposes. Regarding the issue of FAA regulating commercial crewed flights for NASA, Dr. Hertzfeld identified a number of issues to consider before granting licensing authority to the FAA for transporting U.S. Government astronauts or payloads to the International Space Station (ISS) such as whether they would compromise safety.
Representative David Wu [D-OR] inquired about Dr. Nield's statement that future participants would be flying under the "informed consent" provision enacted in the Commercial Space Launch Act (CSLA) amendments of December 2004. Dr. Nield said that space transportation was not unlike other forms of transportation in that a certain level of risk was inevitable. Following the hearing, Representative Wu said "As we move into a new era of human spaceflight, we must uphold a strong focus on the safety of passengers. I am deeply concerned about the FAA's approach to commercial passenger safety and the potential for a commercial launch failure that could cripple our nation's space program."
After the hearing, Representative Edwards said: "We still need to better understand the implications of having FAA operate as both the regulator and promoter of commercial space transportation safety. As NASA moves forward, they will need to work closely with private industry to rigorously address the issues of safety, regulatory authority, and liability in commercial space transportation to ensure the well-being of the public in space, near-space, and on the ground."