Deficit Commission Errs, "Illustrative Cut" Would Outsource Human Spaceflight to Russia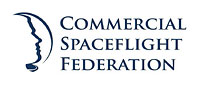 Washington, D.C., Wednesday, November 10, 2010 – The Commercial Spaceflight Federation, representing 37 companies employing thousands of Americans nationwide, released a statement opposing in the strongest possible terms the "illustrative cut" to commercial spaceflight put forth today by the co-chairs of the Deficit Commission.
"This proposed cut would have disastrous consequences for NASA and the Nation. Commercial Crew now represents the primary means of transporting U.S. astronauts to orbit following retirement of the Space Shuttle. Commercial Crew will in fact result in substantial cost savings to the U.S. taxpayer. Eliminating Commercial Crew would result in total reliance on Russia to get to the Space Station and result in the loss of thousands of high-tech jobs here in the United States," stated Bretton Alexander, President of the Commercial Spaceflight Federation.
Alexander added, "The bottom line is that elimination of NASA's Commercial Crew program will cede human spaceflight to Russia. Commercial Crew is the fastest way to reduce the gap following Shuttle retirement, minimizing the time we are dependent on buying seats from the Russians. Some commercial providers have publicly committed to significant cost savings on a per-seat basis as compared to the Russian alternative.
"Moreover, the Deficit Commission also appears to misunderstand the very nature of the Commercial Crew Program. Rather than being 'a subsidy to the private sector,' the Commercial Crew program is fulfilling an essential national need by developing the next U.S. spacecraft to take astronauts to the Space Station, while stimulating markets beyond government as well. It is, in fact, a win-win for the American taxpayer.
"Last year, an independent blue-ribbon commission headed by Norm Augustine recommended to President Obama that NASA partner with the private sector on the development of its next manned spacecraft. Since then, groups including 25 former NASA astronauts and 14 Nobel laureates have all endorsed the Commercial Crew Program. The deficit commission couldn't have gotten this more wrong – this is a program NASA cannot afford to do without," Alexander concluded.
About the Commercial Spaceflight Federation
The mission of the Commercial Spaceflight Federation (CSF) is to promote the development of commercial human spaceflight, pursue ever-higher levels of safety, and share best practices and expertise throughout the industry. The Commercial Spaceflight Federation's member companies, which include commercial spaceflight developers, operators, spaceports, suppliers, and service providers, are creating thousands of high-tech jobs nationwide, working to preserve American leadership in aerospace through technology innovation, and inspiring young people to pursue careers in science and engineering. For more information please visit www.commercialspaceflight.org or contact Executive Director John Gedmark at john@commercialspaceflight.org or at 202-349-1121.