Curiosity Rover Grows by Leaps and Bounds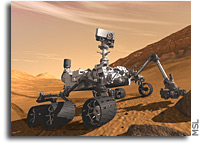 Talk about a growth-spurt. In one week, Curiosity grew by approximately 1 meter (3.5 feet) when spacecraft technicians and engineers attached the rover's neck and head (called the Remote Sensing Mast) to its body. At around 2 meters (about 7 feet) tall, the next rover to Mars now stands head and shoulders above the rest.
Mounted on Curiosity's mast are two navigation cameras (Navcams), two mast cameras (Mastcam), and the laser-carrying chemistry camera (ChemCam).
While it now has a good head on its shoulders, Curiosity's "eyes" (the Mastcam), have been blindfolded in a protective silvery material. The Mastcam, containing two digital cameras, will soon be unveiled, so engineers can test its picture-taking abilities.
Learn more about Curiosity at: http://mars.jpl.nasa.gov/msl/ .
In this image, engineers are dressed head to toe in "bunny suits" (white hoods, lab-style coats and gloves). Only their eyes and foreheads can be seen. They are huddled around the base of the rover's "neck" (its Mast). They watch intently as they carefully lower the Mast to attach it to the rover's flat "back." A cluster of yellow and red wires on the rover's body pokes up in the foreground of the image. Image credit: NASA/JPL-Caltech