Critical Questions Remain on the Viability of Commercial Cargo Efforts to Support the Space Station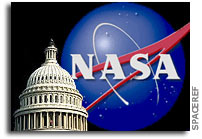 Essential Systems and Capabilities Behind Schedule, Remain Untested
Washington D.C. – Today the Subcommittee on Space and Aeronautics held a hearing to evaluate the progress and viability of commercial launch service providers to supplement our international partners in supplying cargo to the International Space Station (ISS). Once the Space Shuttle program is retired following the STS-135 mission, currently scheduled for July 8th 2011, NASA plans to rely on new commercial launch service providers to supply, maintain, and utilize the multi-billion dollar ISS.
In his opening remarks, Subcommittee Chairman Steven Palazzo (R-MS) noted that Congress has generally been supportive of NASA's commercial cargo efforts. However, he said that "Too often, requests for information have been met with a veil of secrecy and claims of company proprietary information." Subsequently, Palazzo said, "I want to remind NASA and the commercial partners that you are spending taxpayer money, and lots of it. So you will not be exempt from oversight and financial scrutiny."
In closing, Palazzo said, "NASA has spent $1.25 billion over the last five years and it is my firm hope that before the year is out we will have real proof that this investment has been worthwhile."
NASA has spent $500 million since 2005 on the Commercial Orbital Transportation Services (COTS) program, intended to demonstrate commercial cargo delivery capabilities to the ISS from two commercial partners, Space Exploration Technologies (SpaceX) and Orbital Science Corporation (Orbital). Despite initial assurances that NASA would not expend any money to buy services until these systems were fully demonstrated, NASA has spent over $466 million toward the purchase of cargo delivery services even though no demonstration flights to the ISS have been performed.
"We – NASA, Congress, our space station partners – expect these companies to perform," Full Committee Chairman Ralph Hall (R-TX) told the witnesses today. "It is my sincere hope and desire that they perform and meet their contract goals. There is no plan B if they encounter severe technical or schedule challenges, and I want them to succeed."
Chairman Hall has been highly skeptical of the approach the Obama Administration has chosen. "I simply regret that there continues to be so much uncertainty about our nation's ability to reliably get cargo to Station with the final Shuttle flight now less than two months away," Hall said. "It is unfortunate that the decisions of this Administration have created so many questions and turmoil in our outlook for space."
While evaluating technical milestones and progress in developing commercial cargo capabilities, today's hearing did not address more fundamental questions, such as whether there is credible economic demand for services to low earth orbit – governmental or non-governmental – to provide an economic rationale that makes commercial space ventures financially viable.
Ms. Gwynne Shotwell, President of SpaceX, testified that commercial launch providers "will provide safe, reliable and affordable transportation of cargo and astronauts to low Earth orbit" and that commercial providers would "save U.S. taxpayers significant money." Ms. Shotwell said that "By leveraging private funding with federal investment, controlling our costs and developing a diverse customer base, we are able to offer competitive pricing to our commercial and government customers."
Testifying on behalf of NASA, Mr. William H. Gerstenmaier, Associate Administrator of the Space Operations Mission Directorate, told the Committee that he is pleased with the progress of both SpaceX and OSC in developing cargo transportation systems. Gerstenmaier said that "NASA sees no reason to doubt either company's ability to achieve its desired objectives – that of demonstrating commercial cargo delivery to and from LEO. Both partners have aggressive, success-oriented schedules, and are facing challenges typical of a spaceflight development program." Gerstenmaier conceded that both companies have faced delays in reaching milestones. He also claimed that these delays were "not unexpected," and "have not required any additional NASA funding."
Representing Orbital on today's panel, Mr. Frank Culbertson, Jr., Senior Vice President and Deputy General Manager of the Advanced Programs Group, noted that the ISS may perhaps need to be successfully resupplied for decades. He said "It is important to take a long view on this job." Culbertson further noted, "It's true that the technical challenges are also large, but these will be resolved over time by the professionals working the program."
Today's hearing was the first in what will be a series of hearings the Science, Space, and Technology Committee will be holding to provide close oversight of commercial space launch capabilities.
The following witnesses testified today before the Subcommittee:
Mr. William H. Gerstenmaier, Associate Administrator, Space Operations Mission Directorate, National Aeronautics and Space Administration; [testimony]
Ms. Christina Chaplain, Director, Acquisition and Sourcing Management, Government Accountability Office [testimony]
Ms. Gwynne Shotwell, President, Space Exploration Technologies [testimony]
Mr. Frank L. Culbertson, Jr., Senior Vice President and Deputy General Manager, Advanced Programs Group, Orbital Sciences Corporation [testimony]
For more information on today's hearing, or to read witness testimony, visit the Science, Space, and Technology Committee website.