Conrad Spirit of Innovation Challenge Out-of-this-World Announcement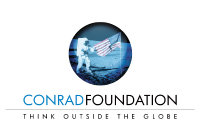 from Conrad Foundation Founder & Chairman Nancy Conrad
Students, Teachers, Parents, Mentors, Judges and Friends:
I am very excited to announce we will be hosting our annual Conrad Spirit of Innovation Challenge Innovation Summit April 9-11 at NASA's Kennedy Space Center. Yes, THE fabulous and awe-inspiring Kennedy Space Center, known among insiders as "KSC."
At KSC you will see where Pete and the crew of Apollo 12 strapped into their Saturn V rocket and launched for their journey to the Ocean of Storms, the largest dark spot on the Earth's moon. Not only can you recapture the wonder and excitement of Pete's trip to the moon, you can also see where NASA is preparing once again to launch astronauts into deep space. They are currently building the largest rocket ever, the Space Launch System, and a new astronaut crew capsule, the Orion. KSC is where you can stand nose-to-nose with Space Shuttle Atlantis and become immersed in true-to-life spaceflight.
Conrad Challenge finalist teams will present their amazing ideas and begin their journey into the future at KSC. Team registration for the Conrad Spirit of Innovation Challenge is open through November 3.
Register today. http://www.conradchallenge.org/registration/