Conrad Foundation: Cast Your Vote for Prestigious Student Award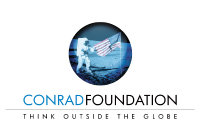 Online voting opens for the People's Choice Award in global high school competition
HOUSTON — It is the power of the people that will select the 2012 winner of the People's Choice Award which is bestowed on the student team with the most innovative new product in the Conrad Foundation's annual Spirit of Innovation Challenge (Conrad Challenge).
Through March 23, the public is invited to review the profiles of the 15 finalist teams, view their product videos and cast a vote. One vote is allowed per person per challenge category.
In its fifth year, the Conrad Challenge inspires teams of high school students across the globe to use science, technology, engineering and math (STEM) skills to create commercially viable, technology-based products in specific categories. The 2012 teams have innovated new technologies to solve real-world problems in Aerospace Exploration, Clean Energy, and Health and Nutrition.
This year's finalist teams designed a variety of game-changing technologies ranging from water filtration devices directly addressing the scarcity of clean water in Haiti, to graphic labeling of allergens in food products, to spacecraft that extract valuable materials from asteroids and return them to Earth for sale in global markets.
"Every year, I am awestruck by the incredible innovations put forth by students from across the globe," said Nancy Conrad, founder and chairman of the Conrad Foundation. "This innovation generation is truly designing the future. Online voting is a great way for the public to support these students and recognize them for their visionary thinking."
Currently, the finalist teams are preparing for the competition's culminating event, the Innovation Summit, which will take place March 29-31, 2012 at NASA-Ames Research Center, Moffett Field, Calif. There, student teams will present their innovations and compete for awards and commercialization opportunities. Public votes provide valuable points in each team's overall score. The People's Choice Award winning team members will each receive a Kindle Fire.
About The Conrad Foundation
The Conrad Foundation is a not-for-profit organization dedicated to transforming the current methods of teaching science, technology, engineering and math (STEM) in high schools. The program is free to all who wish to participate and reaches all socio-economic levels. The Foundation is the only organization of its kind to combine education, innovation and entrepreneurship to inspire solutions for achieving global sustainability. For more information, visit www.conradawards.org.
Relevant Links:
People's Choice Awards: http://www.conradawards.org/pages/peoples-choice-award
Conrad Foundation: http://www.conradawards.org/
Innovation Summit: http://www.conradawards.org/pages/innovation-summit
Cast a vote: http://bit.ly/yIpeN9
Conrad Award Category Descriptions: http://www.conradawards.org/pages/product-category-descriptions
MEDIA CONTACT:
Kim Nahas
Griffin Communications Group
Office: 281-335-0200 | Cell: 713-249-6265 | Email: knahas@griffincg.com