Conrad Foundation and Destination Imagination join forces for the annual Conrad Spirit of Innovation Challenge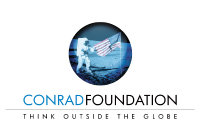 HOUSTON — Today, Nancy Conrad and Dr. Chuck Cadle announced a significant collaboration between their respective organizations at the 2014 Conrad Innovation Summit. The two leading non-profits, theConrad Foundation (Conrad) and Destination Imagination (DI) have joined forces to capitalize on the success of the Conrad Spirit of Innovation Challenge (Conrad Challenge). The ninth Conrad Challenge, a multi-phase business and technical plan competition, will be launched to high school aged students in August.
The partnership between Conrad and DI offers the opportunity to exponentially grow the Conrad Challenge under the more than 30 years of STEM education experience of the DI team. Through its pre-K through university level project-based competitive programs, teacher training, and educator resources, DI prepares students from around the world for college, careers, and life.
The Conrad Challenge was created by Nancy Conrad, founder of the Conrad Foundation, to honor the legacy of her husband naval aviator, NASA astronaut and successful entrepreneur Charles "Pete" Conrad.
"When we created the Spirit of Innovation Challenge I wanted to provide high school students, regardless of socio-economic background, the opportunity to 'get their genius on'," said Nancy Conrad, chairman of the Conrad Foundation. "For the past eight years our students have innovated incredible new technologies and products to solve global challenges in areas such as aerospace, energy and the environment, health and nutrition, and cybersecurity. They learn about all aspects of entrepreneurship and teamwork. It's the perfect time to partner with DI on the Conrad Challenge."
Today school systems around the world are looking for standards-based STEM education programs and this partnership offers viable, affordable, yet inspiring and fun, programs. As a result, DI and Conrad will maximize synergies and a common vision to provide leadership in innovative learning.
"In order to meet the industry demand for an innovation generation and STEM-ready workforce, students and educators need access to an affordable and proven project learning methodology," said Dr. Chuck Cadle, CEO of DI. "This partnership expands the ability of both of our organizations by offering accessible STEM-learning alternatives that align with national initiatives such as the President's Educate to Innovate."
Effective May 1, 2014 DI will take over the day-to-day operation of the Conrad Spirit of Innovation Challenge. This will include experienced staff members from the Conrad Foundation joining the DI team of more than 38,000 volunteers and staff. The Conrad Challenge team will continue to operate out of Houston under the leadership of Cadle. This evolution allows the Conrad Foundation to focus on outreach to industry and research organizations to create new programs and opportunities to inspire and activate students and teachers to explore STEM subjects and entrepreneurial opportunities.
About the Conrad Foundation
The Conrad Foundation is a 501(c) (3) non-profit organization dedicated to transformative education practices, where students use their imagination and innovation to enrich their classroom studies by adding context to content. Engaging teams of high school students from 50 states and 72 countries, the Conrad Foundation uniquely combines education, innovation and entrepreneurship to inspire solutions for achieving global sustainability. For more information, visit ConradFoundation.org.
About Destination Imagination
Destination Imagination, Inc. is a 501(c) (3) non-profit, volunteer-led, cause-driven organization which constructs fun and engaging challenges that teach the creative process from imagination to innovation using inquiry-guided, team-based learning. More than 200,000 students worldwide participate annually in the 21st century skills program under the guidance of 38,000 passionate volunteers. DI's annual conference (www.globalfinals.org) draws more than 16,000 students and supporters to the world's largest celebration of creativity. To learn more, please call 1.888.321.1503 or visit DestinationImagination.org.
###
Media Contacts:
Gwen Griffin, Conrad Foundation
(281) 300-4681
Veronica Mikitka Reed, Destination Imagination
(215) 434-7194