Connecticut Students Set for Cosmic Conversation with Space Station Commander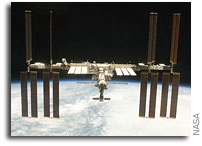 WASHINGTON — Fifth grade students in Connecticut will talk science with International Space Station commander Jeff Williams as he orbits 200 miles above Earth on Dec. 15. The education downlink will take place from 12:50 p.m. to 1:10 p.m. EST from the New England Air Museum in Windsor Locks, Conn.
Williams is a NASA astronaut and commander of the Expedition 22 mission to the station. He has been aboard since Oct. 2. The students attend McAlister Intermediate School in Suffield, Conn., and East Hartford Glastonbury Elementary Magnet School in East Hartford, Conn.
Student questions will focus on the importance of water recycling aboard the orbiting outpost and the effects of the space environment on the life cycle of the painted lady butterflies recently brought aboard the station. The conversation with the space station is part of an educational event at the museum.
Reporters interested in attending the event should RSVP to Caroline d'Otreppe at the New England Air Museum at 860-623-3305, ext.13, by 5 p.m. on Monday, Dec. 14.
Students have been preparing for the downlink by participating in activities that will help them identify the problems that need to be solved in order for people to live and work in space. Hamilton Sundstrand in Windsor Locks, Conn., and CUNO in Meriden, Conn., have partnered with the museum and participant schools to allow students to interact directly with scientists and engineers.
The downlink is one in a series with educational organizations in the U.S. and abroad to improve teaching and learning in science, technology, engineering and mathematics. It is an integral component of Teaching From Space, a NASA Education office. Teaching From Space promotes learning opportunities and builds partnerships with the education community using the unique environment of human spaceflight.
NASA Television will air video from the space station during the event. For NASA TV downlink, schedule and streaming video information, visit: http://www.nasa.gov/ntv
For information about NASA's education programs, visit: http://www.nasa.gov/education
For information about the International Space Station, visit: http://www.nasa.gov/station
Stephanie Schierholz
Headquarters, Washington
202-358-4997
stephanie.schierholz@nasa.gov
Leo Makowski
Hamilton Sundstrand, Windsor Locks, Conn.
860-654-9240
leo.makowski@hs.utc.com
Caroline d'Otreppe
New England Air Museum, Windsor Locks, Conn.
860-623-3305 ext.13
caroline@neam.org