Congressman Posey's Statement on Today's Space Workforce Town Hall Meeting in Orlando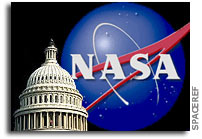 MELBOURNE, FL – Congressman Bill Posey (R-Rockledge) released the following statement in regards to this morning's town hall meeting conducted by Commerce Secretary Locke, NASA Administrator Bolden and Democrat Members of Congress on the future of the space workforce. Administration officials removed Space Coast Congressman Rep. Posey from the invitation list.
"I'm disappointed that the Administration chose to inject partisanship into what really should be a serious and non-partisan effort to help address the needs of Florida's aerospace workforce.
"I am committed to and look forward to continuing to do all that I can to work in a nonpartisan manner to help space coast workers transition into new jobs. Obviously, the Administration is not pleased with my efforts to extend the Space Shuttle program and continue Constellation, but even if we are able to extend these programs there will still be the need for several thousand space coast workers to transition into new careers and partisanship should have no part in that effort."