Congressman Parker Griffith (D-AL) to Keynote Space Economy Symposium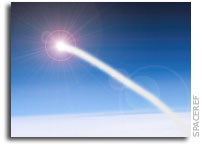 Event to highlight role of space in contributing to economic growth and national competitiveness
WASHINGTON, D.C. – March 10, 2009 – The Space Economy Symposium is an initiative of George Mason University in collaboration with Phillips & Company and hosted by the Space Enterprise Council of the U.S. Chamber of Commerce at its headquarters in Washington, D.C. Friday, March 13, 2009.
The purpose for the Symposium is to initiate a robust policy dialogue to gain greater understanding of space-related activities as a key contributor to national competitiveness. Through presentations, panel discussions, and participant interaction, the Symposium will promote new perspectives and insights about present and future impacts of space on the economy, the roles of government, industry and entrepreneurs in developing the space economy, and trends in commercial space that will drive the space economy.
The goals of the Symposium are to make space a central part of our national economic discussion and to ensure that space is recognized as an essential component of national competitiveness in a global economy.
What: Space Economy Symposium
When: Friday, March 13, 8:00 a.m. – 12:15 p.m.
Where: US Chamber of Commerce 1615 H St. NW Washington, DC 20062
Media Note: This event is open to the media. Please RSVP to Jo Anne Yau, (512) 659-0150 or jayau@phillipscompany.com. Media may also register on site at the event.
SPACE ECONOMY SYMPOSIUM AGENDA
Program:
08:00 – 08:30 a.m. Continental Breakfast (sponsored by Cisco)
08:30 – 08:45 a.m. Welcome and Introduction
Robert P. Hopkins, Sr. Vice President and Managing Director, Phillips & Company
Kenneth Button, Director, Center for Aerospace Policy Research, George Mason University
08:45 – 09:15 a.m. Keynote Address: "Congressional Priorities for Space"
Rep. Parker Griffith (D-AL), Member, Subcommittee on Space and Aeronautics
09:15 – 10:30 a.m. Panel 1: "The State of the Space Economy"
Moderator: Bill Bates, Vice President, Government Affairs, Council on Competitiveness
Prof. Keith Hayward, Director of Research, Royal Aeronautical Society
Barrie Stevens, Deputy Director, International Futures Program, Organization for Economic Cooperation and Development (OECD)
Henry Hertzfeld, Research Professor of Space Policy and International Affairs, George Washington University
Marty Hauser, Vice President, Washington Operations, Research and Analysis, Space Foundation
10:30 – 10:45 a.m. Break (sponsored by the Coalition for Space Exploration)
10:45 a.m. – 12:00 p.m. Panel 2: "The Economic Benefits of the Emerging Space Infrastructure"
Moderator: Robert P. Hopkins, Sr. Vice President and Managing Director, Phillips & Company
Lt. Gen Steven Boutelle, US Army (Ret.), CEO, Cisco IRIS
Robert Richards, Founder and CEO, Odyssey Moon
Conrad C. Lautenbacher, Ph.D., Vice President, Polar Programs, Computer Sciences Corporation
Larry Williams, Vice President, Strategic Relationships, Space Exploration Technologies Corporation
12:00 – 12:15p.m. Closing Remarks
12:15 p.m. Adjourn