Commercial Spaceflight Federation Appoints Makovsky + Company as Public Relations Advisor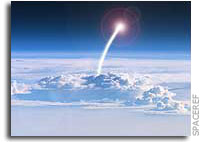 Washington, D.C., July 28, 2009 – The Commercial Spaceflight Federation, an industry association representing 20 commercial spaceflight developers, operators and spaceports, today announced the appointment of Makovsky + Company, one of the nation's largest independent public relations firms, as its public relations advisor. Makovsky, which was recently recognized as the "Public Relations Agency of the Year" by the American Business Awards, will provide public relations, traditional and social media relations and public affairs counsel to the Federation.
"Makovsky's deep understanding of the commercial spaceflight industry and their expertise in traditional and social media make them a valuable partner," said Brett Alexander, President of the Commercial Spaceflight Federation. "We look forward to working with this talented organization to increase awareness of the industry's importance among leaders in government and the public at-large."
"While many people are reflecting on the 40th anniversary of the moon landing, it's critical that we look at what's ahead," said David Rosen, Group Vice President, Makovsky + Company. "The commercial spaceflight industry can make significant contributions to both our economy and body of scientific knowledge, but not until its model and vision are better understood by business and government leaders."
About the Commercial Spaceflight Federation
The mission of the Commercial Spaceflight Federation (CSF) is to promote the development of commercial human spaceflight, pursue ever higher levels of safety, and share best practices and expertise throughout the industry. Commercial Spaceflight Federation member organizations include commercial spaceflight developers, operators, and spaceports. The Commercial Spaceflight Federation is governed by a board of directors, composed of the member companies' CEO-level officers and entrepreneurs. For more information please visit www.commercialspaceflight.org or contact Executive Director John Gedmark at 202.349.1121.
About Makovsky + Company
Founded in 1979, Makovsky + Company (www.makovsky.com) is one of the nation's leading independent global public relations and investor relations consultancies, focused in financial services, professional services, health care, technology, branding and investor relations. The firm attributes its success to its original vision: that the Power of Specialized Thinking(TM) is the best way to build reputation, sales and fair valuation for a client. Based in New York City, the firm has agency partners in more than 20 countries and in 35 U.S. cities through IPREX (IPREX.com), the third largest worldwide public relations agency partnership, of which Makovsky is a founder.
###
John Gedmark
Executive Director
Commercial Spaceflight Federation
(202) 349-1121 (office)
(202) 478-5119 (fax)
1725 Eye St. NW Suite 300
Washington, DC
20006