Chairman Rockefeller Remarks on Today's Executive Session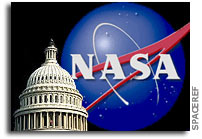 Good morning, I want to briefly summarize the bills and accepted amendments. We'll consider three bills today, and a nomination for promotion in the U.S. Coast Guard. We will begin with The National Aeronautics and Space Administration Authorization Act of 2010.
For many months, this Committee has been working on a bipartisan basis to develop a strong and forward-looking reauthorization bill for NASA. Through this process, I believe we've reached a sensible center. This bill offers what I like to call a "third way" for NASA.
The bill:
– Supports the President's overall objectives for the agency, while strengthening and clarifying other key elements;
– It protects a balanced portfolio for NASA, including full funding for aeronautics, earth and space science; and
– It addresses my concerns about fiscal management and cost overruns, challenging NASA to do more with the resources it has. The budget is tight, so we need to be smart and fiscally responsible.
In short, this bill provides a blueprint to get our nation's space program moving forward in a smart, fiscally responsible way, and in a way that will maintain America's edge in space flight, exploration, science and aeronautics. I will let Senator Nelson, who has worked tirelessly on this bill, talk more about it in short order.
Our next bill on the agenda is the Maritime Administration Authorization Act of 2011. This bill lays the groundwork for developing marine transportation infrastructure – which is essential to ensuring the efficient movement of goods throughout the nation. It also invests in our "intellectual infrastructure" – by authorizing funding for the Merchant Marine Academy and our next generation of maritime leaders.
The last bill we'll consider today is S. 3304, the Equal Access to the 21st Century Communications Act. This bill takes a major step forward for people with disabilities by ensuring accessible technology.
The bill will expand the availability of hearing aid-compatible phones; develop ways to provide equal access to 911 communications emergency services; and expand and update requirements regarding closed captioning and video descriptions.
I want to thank Senator Pryor, Senator Kerry, and Senator Dorgan on the Committee for their work on this important legislation.
Finally, we will consider a nomination for promotion in the U.S. Coast Guard.
Before turning to my esteemed colleague, Senator Hutchison, I want to take a minute to recognize and thank my talented staff. The days leading up to every mark-up are long and grueling. Staff get in early, leave late, and sleep little. Today is no exception. So thank you. And a very special thank you to my talented science and space team: Ann Zulkosky, Tom Cremins, and Matt McMahon. I'd also like to thank Senator Hutchison's staff: Jeff Bingham, Brian Hendricks, and Steve Tesney. I know you've been working around the clock.
So with that, I will turn to Senator Hutchison.