CASIS Unveils New Logo Part of Aggressive Plan to Expand Research Partners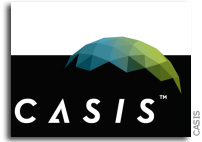 KENNEDY SPACE CENTER, FL. (June 22, 2012) – The Center for the Advancement of Science in Space (CASIS), the nonprofit organization managing research on the International Space Station (ISS) U.S. National Laboratory, today unveiled a new brand identity, including a new logo, to reflect the growth of the organization and its efforts to expand research opportunities onboard the ISS.
The new CASIS logo consists of a blue and green geodesic dome, a symbol harkening back to the dawn of the space era, while still an icon for today's scientists, engineers and technologists. The blue and green color scheme represents the Earth, the ultimate beneficiary of the research CASIS manages, while the white lettering and distinctive "A" symbolizes the ISS and the vehicles that will bring science to and from Station.
Since being awarded the contract to manage the ISS National Lab last August, CASIS has grown to more than 25 staff and is currently developing research opportunities in life sciences, material sciences and observational sciences for 15 companies, institutes and scientists. Several projects are expected to be announced in the coming weeks.
In addition, CASIS is facilitating funding for some NASA-approved projects. It has already signed contracts with hardware manufacturers and software designers to enhance the capabilities of the Station and help scientists fly their projects and conduct their research. Solicitations for projects in biological sciences and observational projects will be released starting next week.
"CASIS is determined to facilitate the development of ground-breaking products and technologies on the ISS for the benefit of people on Earth," said CASIS Interim Executive Director Jim Royston. "Our new logo captures our spirit and mission, and serves as a message to the marketplace that CASIS is a strong partner helping business and researchers harness the power of microgravity and the ISS U.S. National Lab."
"We are excited by the new identity and the expanding projects and partnerships CASIS is advancing to ensure maximum utilization of the ISS National Lab," Royston said.
The new brand identity can be found at www.iss-casis.org.