CASIS Unveils Mission Patch for First Sponsored Payload Designed by Renowned Artist Shepard Fairey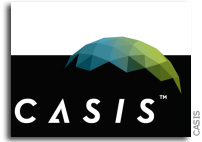 The Center for the Advancement of Science in Space (CASIS), the nonprofit organization promoting and managing research on board the International Space Station (ISS) U.S. National Laboratory, unveiled its first sponsored payload mission patch, designed by renowned artist Shepard Fairey, at Engadget Expand in San Francisco, CA over the weekend.
Advancing Research Knowledge 1 (ARK1), originally known as Increment 37/38, is the first launch period sponsored by CASIS. ARK1 is scheduled to run from September 2013 through March 2014. Some planned payloads during this increment include award recipients from CASIS' first Request for Proposals in protein crystallization, binary colloidal alloy tests with implications to product shelf life, and the education program, "Story Time From Space." A number of mission patches will also be flown to the ISS to commemorate ARK1.
Shepard Fairey, a Rhode Island School of Design graduate, is best known for his work through OBEY and the Barack Obama "HOPE" campaign in 2008.
"It's a really special thing. I'm just flattered and honored that I could create something that becomes just a small symbol of how things can move forward. The excitement of the unknown. To be part of that, is really a cool thing," said Shepard Fairey of Obey Giant/Studio Number One.
"The unveiling of this patch signifies a historic moment in the aerospace community, where a third-party entity is moving forward to send payloads to the ISS that will benefit all humankind," said CASIS Interim Executive Director Jim Royston. "Having a gifted and celebrated artist like Shepard Fairey designing this significant patch allows CASIS to reach new audiences that will enhance our mission of promoting the National Lab."
CASIS attended the Engadget Expand Conference in San Francisco in conjunction with promoting its partnership with the MassChallenge accelerator. Engadget's Expand event provided the ideal forum to unveil the CASIS ARK1 mission patch to a tech-savy audience. To see more regarding our partnership with MassChallenge, see the release on the CASIS website: http://bit.ly/VVctAT.
About CASIS: The Center for the Advancement of Science in Space (CASIS) was selected by NASA in July 2011 to maximize use of the International Space Station (ISS) U.S. National Laboratory through 2020. CASIS is dedicated to supporting and accelerating innovations and new discoveries that will enhance the health and wellbeing of people and our planet. The CASIS goal is to bring the magic of space down to earth. For more information, visit www.iss-casis.org.
About the ISS National Laboratory: In 2005, Congress designated the U.S. portion of the International Space Station as the nation's newest national laboratory to maximize its use for improving life on Earth, promoting collaboration among diverse users and advancing STEM education. This unique laboratory environment is available for use by other U.S. government agencies and by academic and private institutions, providing access to the permanent microgravity setting, vantage point in low earth orbit and varied environments of space. The ISS National Laboratory Office at NASA's Johnson Space Center currently facilitates research initiatives on board the station's National Lab, but management of America's only in-orbit laboratory