Battelle Invests in Teen Innovation, STEM Education – Partners With Conrad Foundation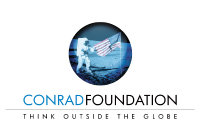 World's leading independent research and development organization partners with Conrad Foundation's Spirit of Innovation Challenge
Nancy Conrad, founder and chairman of the Conrad Foundation, announced today Battelle is on board as a sponsor of the sixth annual Spirit of Innovation Challenge. As a Corporate Partner, Battelle is the primary sponsor of the program's Cybertechnology & Security category.
The Spirit of Innovation Challenge invites teams of high school students from around the world to use their science, technology, engineering and math (STEM) skills to develop commercially viable products and services to address issues of global sustainability for the benefit of humanity. The Spirit of Innovation Challenge offers teachers, parents and afterschool coordinators a relevant and dynamic way to teach STEM. Supporting the teams' efforts are world-renowned scientists, engineers and entrepreneurs who work with the students as virtual mentors.
"At Battelle, we believe in supporting the development of innovative thinkers and a future workforce capable of tackling the global challenges of the 21st century," said David Fisher, Vice President of Battelle's Cyber Innovations business. "The Spirit of Innovation Challenge engages and challenges students to critically examine the world in which they live and use the knowledge they gain in the classroom and their passion for bettering the world in very practical ways. We are inspired by the entrepreneurial spirit of these young adults."
This year's Cybertechnology and Security category includes entries featuring interactive maps addressing emergency evacuation systems, a wireless traffic light monitoring system, a cloud-based education software platform, a mechanical "bird" for use in the field of defense and combative engineering, and many others. Additional Spirit of Innovation Challenge categories include Aerospace and Aviation, Energy and Environment, and Health and Nutrition.
This year's finalist teams will be selected in February and will meet in April at NASA Johnson Space Center in Houston for the annual Innovation Summit and the selection of the Pete Conrad Scholars. Winning teams in each category receive $10,000 in next-step grants to develop their products and services.
"Partnering with Battelle is an excellent fit for our program," Conrad said. "We both believe in the transformative power of education and the importance of supporting innovation both in and out of the classroom."
Battelle joins Lockheed Martin Corporation and Kraft Foods as 2012-2013 corporate supporters of the Spirit of Innovation Challenge. Also contributing to the program's robust offerings is the American Institute of Aeronautics and Astronautics, the Information Systems Security Association, Sigma Xi and the American Society for Nutrition.
About the Conrad Foundation
The Conrad Foundation is a not-for-profit organization dedicated to 21st century, immersive learning, where students use their imagination and innovation to enrich their classroom studies by adding context to content. The Foundation is the only organization of its kind whose programs combine education, innovation and entrepreneurship to inspire solutions for achieving global sustainability. For more information, visit www.conradfoundation.org.
About Battelle
As the world's largest independent research and development organization, Battelle provides innovative solutions to the world's most pressing needs through its four global businesses: Laboratory Management; National Security; Health and Life Sciences; and Energy, Environment and Material Sciences. It advances scientific discovery and application by conducting $6.2 billion in global R&D annually through contract research, laboratory management and technology commercialization.
Headquartered in Columbus, Ohio, Battelle oversees 22,000 employees in more than 130 locations worldwide, including eight national laboratories for which Battelle has a significant management role on behalf of the U.S. Department of Energy, the U.S. Department of Homeland Security, and the United Kingdom.
Battelle also is one of the nation's leading charitable trusts focusing on societal and economic impact and actively supporting and promoting science, technology, engineering and mathematics (STEM) education. www.battelle.org
Contact: Carrie Taylor, +1-281-642-6981, carrie.taylor@conradawards.org