Barbara Cohen to Talk Mars Exploration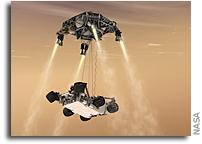 What: On Aug. 2, Dr. Barbara Cohen, a planetary scientist at NASA's Marshall Space Flight Center in Huntsville, Ala., will talk about the history and future of NASA's exploration of Mars as part of the U.S. Space & Rocket Center's Pass the Torch Inspiration Lecture Series. The event is free and open to the public.
The lecture will highlight NASA's successful series of Mars rovers, from Pathfinder, to Spirit and Opportunity, to the Mars Curiosity rover. Curiosity is scheduled to land on the Red Planet at 12:30 a.m. CDT Aug. 6. The event will be broadcast live on Ustream: http://www.ustream.tv/channel/nasa-msfc
Who: Dr. Barbara Cohen is a science and operations team member for the Mars Exploration Rovers Spirit and Opportunity, which continue to explore Mars after eight years. Cohen's science interests focus on the formation and evolution of the Earth, moon, Mars and asteroids. At Marshall, she helps plan new planetary robotic missions and develops new techniques to understand planetary samples in the laboratory and robotically.
When: Thursday, Aug. 2, 5 p.m. CDT
Where: U.S. Space & Rocket Center's Davidson Center for Space Exploration 3D theater
To attend: News media interested in covering the event should contact Tim Hall at the U.S. Space & Rocket Center at 256-701-0916, or Angela Storey in the Marshall Public & Employee Communications Office at 256-544-0034 no later than 4:30 p.m. Wednesday, Aug. 1.
For more information about the Mars landing, visit: http://www.nasa.gov/mars