ATLAS Space Operations to Support Space Systems Loral
ATLAS Space Operations, Inc. announced today that is has been selected by Space Systems Loral (SSL), a leading provider of innovative satellites and spacecraft systems, to provide dedicated launch and on-orbit satellite operations support for a 2018 mission. The Low Earth Orbit (LEO) mission will be supported using the revolutionary ATLAS LINKS™ – Electronically Steered Array system.
"I am extremely pleased that SSL has chosen ATLAS to support this important mission. SSL continues to set itself apart by prioritizing strategic partnerships with small innovative businesses like ATLAS. I am looking forward to our success on this mission and many more to come," said Sean McDaniel, CEO of ATLAS Space Operations.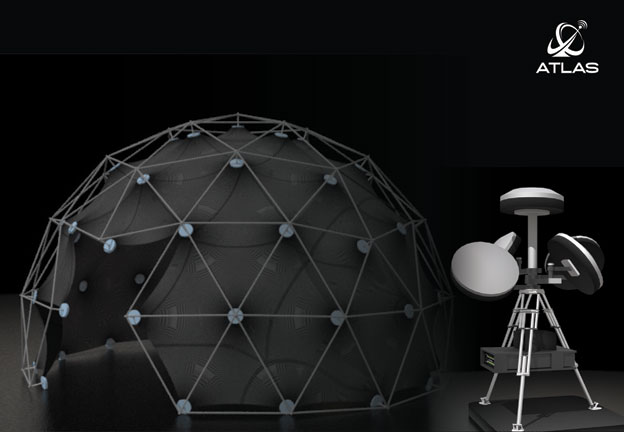 ATLAS LINKS™ is the first mobile, rapidly deployable, electronically steerable RF ground system in the world. This system is capable of being assembled in hours, virtually eliminating concerns around "where, when and how" to set up an antenna solution for satellite command and control. 
The ATLAS LINKS™ system seamlessly links up to the ATLAS Freedom Platform™ eliminating any scheduling conflicts and allows for simple, cost effective set up, allowing the customer to start communicating with their satellite faster than ever before. 
Space Systems Loral (SSL) is a leading provider of commercial satellites with broad expertise to support satellite operators and innovative space related missions. The company designs and manufactures spacecraft for services such as direct-to-home television, video content distribution, broadband internet, mobile communications, and Earth observation. As a Silicon Valley innovator for more than 50 years, SSL's advanced product line also includes state-of-the-art small satellites, and sophisticated robotics and automation solutions for remote operations. For more information, visit www.sslmda.com
ATLAS Space Operations, Inc. is a state-of-the-art satellite TT&C company that is utilizing the latest technologies to provide seamless solutions for the consumer's satcom needs. Having moved hardware to the cloud and completely bypassing the need for onsite maintenance – ATLAS delivers a cost-effective solution to the customers. For more information, visit www.atlasground.com and follow @AtlasSpace on Twitter.
Media Contact:
Dan Carey, ATLAS Space Operations
Director of Marketing
[email protected]
(402) 314-9913