Amateur watchers invited to 'Rosetta Up Close' photo contest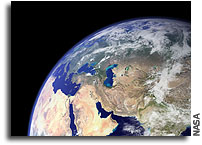 Rosetta's Earth fly-by on 4 March, ESA's closest ever at just 1900 kilometres, will provide a fantastic photo opportunity. The 'Rosetta Up Close' photo contest will recognize and reward the best images and sky watchers everywhere are invited to participate.
If you've got a decent amateur telescope and digital imaging equipment, you can probably take some impressive photos of Rosetta—weather permitting—as the craft speeds by Earth.  
After sunset in Europe on Friday, 4 March, the spacecraft will appear to travel from south east to south west, moving from the constellation Sextans towards the setting Sun, crossing the complete sky. It will move faster as it heads west, disappearing below the horizon around 23:00 CET. As seen from Europe, it will only reach a magnitude of about +8 or +9 on the brightness scale used by astronomers; this is dimmer than a typical faint star and not readily apparent to the eye.
Best image: 2 VIP launch event tickets to be won
ESA invites amateur astronomers to participate in the 'Rosetta Up Close' photo contest. The top three images will win some extraordinary prizes—including VIP tickets to the Venus Express launch event scheduled for later this year. All submissions will be published at a later date on the ESA web site (see contest details below).
ESA's Dr Detlef Koschny will serve as chief judge for the Rosetta Up Close contest, and, in an MP3 audiocast (see link at right), he explains the fly-by event and what sky watchers in Europe should look for.
Dr Koschny is a scientist in the Space Science Department (ESSD) at the European Space Research and Technology Centre (ESTEC) in Noordwijk, The Netherlands, and is deeply involved in the Rosetta mission.
Rosetta Up Close contest details
Title:
'Rosetta Up Close' photo contest
Deadline:
Images to be submitted no later than:

12:00 CET, 11 March 2005

Composition:
Images must be of Rosetta passing Earth taken between now and the deadline
Format:
Maximum file size: 2 MB
Resolution: 96-300 dpi
Size: No larger than 1024×768 dots
Format: Any commonly used photo format (JPG, GIF, TIF, BMP, etc.)
Submissions:
Send images to: detlef.koschny@esa.int.

Submissions must include photographer's:
NAME, ADDRESS, PHONE NUMBER and EMAIL ADDRESS

Maximum 3 images per contestant.

Eligibility:
Contest is open to amateur sky watchers defined as those who do not receive income from professional employment as an astronomer or photographer. Employees and direct contractors of ESA are not eligible.
Prizes:
1st Place: Two (2) VIP tickets to attend the exclusive Venus Express launch event at the European Space Operations Centre (ESOC), Darmstadt, Germany, in mid-2005 (date to be announced)
2nd Place: Two (2) ESA T-shirts featuring logos of the latest mission
3rd Place: A selection of ESA space mission posters

The decision of the ESA judging panel will be final.

Additional details:
Contest is held on a 'best effort' basis: ESA assumes no liability for submissions improperly emailed, that cannot be opened for judging or that are not received for any reason whatsoever. ESA undertakes to handle personal data in accordance with the ESA Web standard terms and conditions (see link at left). Travel to ESOC is the responsibility of prize winner. By participating, contestants agree to their Rosetta images being published on the ESA web site and on other sites which, from time to time, republish ESA web material.
Press Queries:
ESA Communication Office at ESOC

ESA/ESOC
Robert-Bosch-Str. 5
64293 Darmstadt
Germany

Tel: +49 6151 90 2516
melanie.zander@esa.int