Advances in Aerogels at NASA Glenn Recognized by Nortech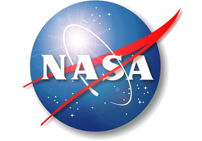 Polyimide aerogels developed by researchers at NASA's Glenn Research Center in Cleveland recently won the top award at this year's NorTech Innovation Awards ceremony.
The NorTech Innovation Awards recognize Northeast Ohio's most innovative organizations and leaders. Each year, NorTech, in partnership with Crain's Cleveland Business, honors breakthrough innovations that have the potential to make a dramatic impact on a specific industry or market sector, or that have already had such an impact.
As developers of the advanced aerogels, Glenn's Mary Ann Meador and Haiquan Guo of Ohio Aerospace Institute were recognized as winners in an annual awards ceremony on March 14 at the Embassy Suites in Independence.
Aerogels are known to be the best insulators, but the only aerogels currently produced today are made from silica. However, silica aerogels are limited in use due to their extreme fragility and dustiness. NASA-developed polyimide aerogels are 500 times stronger than silica aerogels, making them more attractive for widespread use. The innovation recognized by NorTech is a major advance over fragile silica aerogels because the polyimide aerogels can also be made into foldable thin films for use as insulation in inflatable structures, spacesuits, high performance outerwear, temporary housing structures, and refrigeration and industrial pipelines. In a thicker form, polyimide aerogels can easily be molded to shapes or panels, or sanded and machined to provide insulation for construction and consumer appliances.
Aerogels are highly porous, low-density solids with extremely small pore sizes, making them superior as insulators. However, no other type of aerogel possesses the compressive and tensile strength of Glenn's innovation while still retaining its ability to be flexibly folded to contour to whatever shape is needed.
For more information about Glenn, visit: http://www.nasa.gov/glenn
For more information about Glenn's aerogels technology development, visit: https://technology.grc.nasa.gov/techdays2012/TechDays_TOPsheets/PS-00922-1112_B101_AS.pdf