Aderholt Challenges The President's Science Advisor On Human Space Flight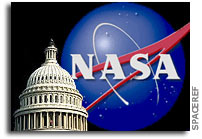 Wednesday February 24, 2010 – WASHINGTON, D.C. – Congressman Robert Aderholt (R-AL) today pressed President Obama's top science and technology advisor, Dr. John P. Holdren, on the Administration's plan to end Constellation, during an Appropriations subcommittee hearing today. Rep. Aderholt serves on the powerful House Appropriations Committee, as a member of the Commerce, Justice and Science Subcommittee, which is responsible for funding NASA. Today's hearing was widely considered as a lead-up to another Appropriations hearing with NASA Administrator Charlie Bolden in March.
Dr. John Holdren is the advisor to President Barack Obama for Science and Technology and Director of the White House Office of Science and Technology Policy. The current White House Office of Science and Technology Policy grew out of the Office of Science and Technology which was formed in 1961 by President John F. Kennedy to provide advice and recommendation in response to the growing importance of space exploration.
Congressman Aderholt made the following statement moments after the hearing.
"The President's decision to end the Constellation program is reckless and could cripple U.S. human spaceflight for an unknown number of years. Relying on commercial companies that in some cases have little experience with building manned space systems will severely weaken our standing as the world's leader in human space flight."
"I appreciate Dr. Holdren's attendance at today's hearing; however his testimony and answers simply did not calm my fears that our nation's space program will not remain a leading science program. When asked repeatedly about whether Dr. Holdren and the administration had a human space flight plan other than Ares moving forward, he could not give an answer. When asked if the administration specifically knows how many jobs will be lost because of this drastic policy change, Dr. Holdren, again, could not give an answer. It is my goal to hold this Administration accountable until they are able to answer these questions."
"I urge President Obama and the administration to scrap this plan to end Constellation and give NASA the appropriate funding to remain a world leader."
####
Congressman Robert Aderholt Question & Answer Transcript:
"Dr. Holdren, Thank you for being here today and for your testimony."
"In recent years, the entire discretionary budget request averaged just under one trillion dollars."
"President Obama's budget requests average over $3 trillion – not counting stimulus bills – so I hoped the NASA request would include realistic dollar amounts for human exploration."
"The Augustine Commission suggested $2-3 billion more per year for ANY of the human space flight options to be realistic."
"This budget plan, however, flushes away $9 billion invested in Constellation, commits the U.S. taxpayer to at least $2 billion more dollars to shut down those programs, and it provides a top-line increase of slightly more than $1 billion per year for five years."
"It terminates the only launch, and capsule, programs which have been guided by NASA's safety criteria to the level of being human rated by NASA."
"This plan abandons any hope of astronauts actually going anywhere, beyond the station, for at least 20 years. I am aware of the OMB statement of NASA's mission of getting ready to go to Mars. But these science projects should be worked on at the same times as launch systems like Constellation which will actually get us somewhere."
Rep. Aderholt Question:
"My first question is about the speed with which NASA is shutting down Constellation even though the commercial options for human spaceflight are not ready. Fixed costs for launching Ares I would be about $1.2 billion a year; any launch system is going to have that high a cost or higher."
"The marginal cost, or cost per rocket, would be about $120 million for Ares I, plus about $50 million for the Orion capsule. The latest estimate for a completed Falcon 9 is about $130 million. Meanwhile, we should note that the original March 2006 contracts NASA signed with the two companies which won COTS contracts called for 3 demonstration flights by the fall of 2008, showing the ability to deliver cargo to the International Space Station. Almost four years later, we are still waiting on that first flight."
"The transfer of human spaceflight missions to commercial companies only goes against, the 2005 and 2008 Space Act bills, the 2008 Aerospace Safety Advisory Panel report, the 2009 Aerospace Safety Advisory Panel report, and even the Augustine Commission, which recommended a backup launch plan."
"The intent of Congress was clearly that NASA would continue these programs until Congress made a decision on the President's proposals. Isn't it a big risk to our space program for NASA to be aggressively cancelling and freezing all Constellation contracts which were on schedule to be awarded this year?"
Dr. Holdren's reply:
"First of all Congressman, I believe we are talking about the FY 2011 budget year that is the President's proposal as to what he would like to do in 2011, which obviously will be put in front of this committee and other committees. As I understand it, and I read your letter to the NASA administrator, and as I understand it… NASA won't be terminating these contracts at this point. It is not in violation of the statute. It is not NASA's intention or the administration's intention to violate the statute. We know we need to work with congress to execute this change in approach in NASA's human space program. There is no intention of violating the law and I don't believe the law is being violated."
"My understanding is… that is what was given to you in the letter. Contract Law and Contract management is not my area of expertise so I rely on the materials I've been given and what the Administrator and his staff give me, which is that they believe that they are in compliance with the law. And the intention is to work with the Congress to implement the change in direction in the human space flight program and putting a heavier emphasis on development of new technologies which have been outlined in the administration's FY 2011 budget."
Rep. Aderholt question:
"The two Space Act bills passed by Congress in 2005 and 2008 supported some commercial space flight development but never to the point of eliminating our primary launch and capsule plans. NASA has spent $500 million on the COTS program. You want to add another $312 million – an additional 60 percent – on top of the $500 million; and then another $500 million on top of that in FY11 for commercial crew; and then billions more. Can you provide us with the market study you did which proves that multiple rocket companies can survive without continued taxpayer support, and can you tell us how many jobs are created in the first two years and how many jobs are lost?"
Dr. Holdren's reply:
"It is my impression that there has been a number of market studies presumably done by some of these companies and some of their investors about what the cost in this industry are. I'm not personally familiar with those studies and I can't tell you what particular studies say or about the number of jobs. I have seen estimates that something like 1700 jobs could be associated with the early phases of the birth of the commercial space industry as envisioned by the president's proposal. But again, this is not my domain of expertise: the economic assessments are the jobs of others who look at it more closely."
"I'm sure there have been market studies, I mean, these folks aren't crazy. They aren't investing their own money without having done some studies to determine…I'm not personally aware. I'll get back to you if you want."