Pop-Up Robots on Mars?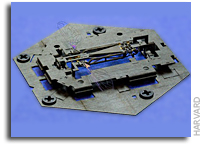 In New Mass-production Technique, Robotic Insects Spring to Life, Harvard University
"A new technique inspired by elegant pop-up books and origami will soon allow clones of robotic insects to be mass-produced by the sheet. Devised by engineers at Harvard, the ingenious layering and folding process enables the rapid fabrication of not just microrobots, but a broad range of electromechanical devices. In prototypes, 18 layers of carbon fiber, Kapton (a plastic film), titanium, brass, ceramic, and adhesive sheets have been laminated together in a complex, laser-cut design. The structure incorporates flexible hinges that allow the three-dimensional product–just 2.4 millimeters tall–to assemble in one movement, like a pop-up book."
Keith's note: Imagine if NASA could achieve packing density for its spacecraft like this – especially for landers. On Mars, for example, swarms of flying probes, covered with photovoltaic materials, armed with sensors, could fan out from a landing site to take measurements. Or a larger glider or balloon coudl release them over a larger area and have them report data back while they are within communications range.