NASA Virtual Student Engineering Competition Announces Winners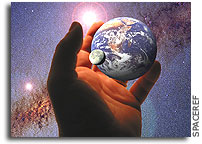 The top six teams competing in the first "RealWorld-InWorld NASA Engineering Design Challenge" showcased their creative ideas for a panel of expert judges, fellow teams and others on April 14, 2011. The forum, held in a virtual online space, was the culmination for this year's "RealWorld-InWorld NASA Engineering Design Challenge." The challenge gives high school students a unique opportunity to work with university students to solve authentic NASA-inspired, design-based engineering problems using 21st century technology tools and skills.
The National Institute of Aerospace (NIA), NASA's Goddard Space Flight Center in Greenbelt, Md., and NASA's Langley Research Center in Hampton, Va., collaborated with USA TODAY Education in McLean, Va., and LearniT-TeachiT in Washington, D.C., to create and hold the RealWorld-InWorld Challenge.
During the RealWorld phase of the challenge, more than 150 high school students from around the United States used the engineering design process to develop possible solutions for problems related to the James Webb Space Telescope. Twenty teams from across the U.S. were selected to move to the InWorld phase which took place in a 3D multi-user virtual universe, developed by NIA. Each RealWorld team consisted of high school students led by engineering and information technology university students.
InWorld teams met, shared information about ways to improve components of the Webb telescope, and designed new sunshields and mirror assemblies all through online collaboration within their virtual team worlds. Teams also interacted with Webb telescope scientists and engineers during InWorld guest presentations.
"We wanted to do an engineering design challenge for the Webb telescope and Sharon Bowers, Educator in Residence with NIA came to us with RealWorld-InWorld," said Maggie Masetti, webmaster and social media lead for the Webb telescope at NASA Goddard. The Webb project was able to provide Ms. Bowers with support and access to our scientists and engineers, some of whom were guest speakers InWorld. The ability to use technology to connect students and professionals who are miles apart is fantastic."
An expert panel comprised of graduate engineering students, educators, and Webb researchers, judged the results and selected the winning teams. First place was awarded to high school students Jill Freise, Matthew Roth, and Adrianna Cooke from Lutheran South Academy high school in Houston, Texas, and their college team leader, Nam Troung, from the University of South Florida.
"This was an excellent opportunity for us, engineering students, to work on a real life engineering design challenge," said Nam Troung. "Being a part of the 'RealWorld-InWorld Challenge' gave us knowledge from working with the new technologies and other team members, a boost in self confidence, winning prizes, and the experience of being part of something big and important such as the Webb telescope."
Other finalists include students from a physics class at Troy High School in Troy, Mich., a team from Richland Senior High School in Johnstown, Pa., and three teams of students from the NASA INSPIRE Online Learning Communities. INSPIRE is a NASA initiative that provides educational activities, resources, and collaborative tools for high school students interested in pursuing STEM careers. Team leaders for these teams were from Georgia Tech, University of Alabama at Huntsville, University of Virginia, Washington State University, and Ripon College.
Each student on the winning team was awarded $1000 and an iPad 2. The second place team members received a $100 gift certificate. All participants received a certificate of participation and a letter praising their successes in the Challenge.
The James Webb Space Telescope is NASA's next-generation space observatory and successor to the Hubble Space Telescope. The most powerful space telescope ever built, Webb will observe the first stars and galaxies ever formed and see planets around distant stars. The Webb telescope is a joint project of NASA, the European Space Agency and the Canadian Space Agency.
For related images to this story, visit: http://www.nasa.gov/topics/nasalife/features/realworld-design-chal.html
For more information about the RealWorld-InWorld Project, visit: http://www.nasarealworldinworld.org
For more information about the National Institute of Aerospace, visit: http://www.nianet.org
For more information about the James Webb Space Telescope, visit: http://www.jwst.nasa.gov
For more information about USA TODAY's NASA projects, visit: http://www.usatodayeducate.com