NASA Looks to FIRST to Build the Next Generation of Scientists and Engineers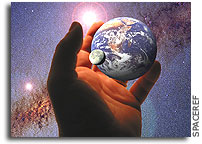 FIRST (For Inspiration and Recognition of Science and Technology), an organization founded by inventor Dean Kamen to inspire young people's interest and participation in science and technology, today announced NASA has awarded a five-year agreement to FIRST to provide support for hand-on robotics competition events to address the critical shortage in science, technology, engineering, and mathematics (STEM) fields that the nation is facing. The multi-year cooperative agreement, worth up to $20 million, was granted by NASA through the year 2014.
The issues of educating the workforce of the 21st Century have taken on a new sense of urgency as several recent studies have shown a pending crisis. The 2007 National Academies of Science report, "Rising Above the Gathering Storm," and subsequent updates, stated that the vitality of the United Sates, which is in large part due to the productivity of a well-trained workforce and the steady stream of scientific and technical innovations they produce, is endangered.
"This is the largest NASA-funded student program geared toward robotics activities," said NASA Administrator Charles Bolden. "For the next five years, approximately 25,000 students across the country will not only learn from our nation's best and brightest, but also compete and have fun at the same time."
FIRST Robotics Competition (FRC ) and FIRST Tech Challenge (FTC ), two of four robotics programs offered by FIRST, and dedicated to 'turn young people on' to career opportunities in science, technology, engineering, and math (STEM) careers, will be supported by the NASA award to increase America's talent pool by improving science and mathematics education for youth.
"NASA has been, and continues to be, a fantastic supporter of FIRST and the FIRST Robotics Competition," said Jon Dudas, President of FIRST and former Undersecretary of Commerce and Director of the U.S. Patent and Trademark Office. "They have opened up their resources, their training, and their employees to help us achieve our vision. This award will greatly assist NASA and FIRST in realizing a world where science and technology are celebrated, and young people dream of becoming science and technology leaders."
Under the terms of the award, FIRST will provide participants with 'hands-on' experience with robotics, and the NASA Robotics Outreach Competition (ROC) will provide students with exposure to NASA scientists, engineers, and program mangers working on a range of NASA projects and missions to ensure that students receive meaningful training during their experience. Through this program, NASA continues its commitment to attract students into NASA's future workforce.
"From its inception 20 years ago, FIRST has been dedicated to the mission of inspiring young minds to become the best of what this country can offer – smart, talented, hardworking, and creative citizens," said Bill Miller, Director of the FIRST Robotics Competition. "At FIRST, we know that today's students will be creating new jobs, new industries, and new companies to meet challenges we cannot yet comprehend."
NASA is the largest organization involved with FIRST and has participated since 1995. In 1999, NASA and FIRST signed a memorandum of agreement to cooperatively expand the availability of technology development, education and inspiration programs to students throughout the country.
About FIRST
Accomplished inventor Dean Kamen founded FIRST (For Inspiration and Recognition of Science and Technology) in 1989 to inspire an appreciation of science and technology in young people. Based in Manchester, N.H., FIRST designs accessible, innovative programs to build self-confidence, knowledge, and life skills while motivating young people to pursue opportunities in science, technology, and engineering. With support from three out of every five Fortune 500 companies and $14 million in college scholarships, the not-for-profit organization hosts the FIRST Robotics Competition (FRC ) and FIRST Tech Challenge (FTC ) for high-school students, FIRST LEGO League (FLL ) for 9 to 14-year-olds, (9 to 16-year-olds outside the U.S. and Canada) and Junior FIRST LEGO League (Jr.FLL(TM)) for 6 to 9-year-olds. Gracious Professionalism(TM) is a way of doing things that encourages high-quality work, emphasizes the value of others, and respects individuals and the community. To learn more about FIRST, go to www.usfirst.org.