DARPA Request for Information: 100 Year Starship Study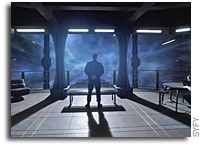 DARPA is seeking ideas for an organization, business model and approach appropriate for a self-sustaining investment vehicle in support of the 100 Year StarshipTM Study. The 100 Year StarshipTM Study is a project seeded by DARPA to develop a viable and sustainable model for persistent, long-term, private-sector investment into the myriad of disciplines needed to make long-distance space travel practicable and feasible. The genesis of this study is to foster a rebirth of a sense of wonder among students, academia, industry, researchers and the general population to consider "why not" and to encourage them to tackle whole new classes of research and development related to all the issues surrounding long duration, long distance spaceflight. DARPA contends that the useful, unanticipated consequences of such research will have benefit to the Department of Defense and to NASA, and well as the private and commercial sector.
The information obtained will be used for planning and acquisition strategy development. DARPA will use the information obtained as a result of this RFI on a non-attribution basis. Providing data and information that is limited or restricted for use by the Government for that purpose would be of very little value and the inclusion of such restricted/limited data/information is discouraged. Responses as a single file in Adobe PDF electronic format can be submitted to 100YSS@darpa.mil by 12:00 pm (noon) Eastern Time, Friday, June 3, 2011. For complete details of this notice, please refer to the attachment, "RFI – 100 Year Starship Study".
RFI – 100 Year Starship Study
Type: Other (Draft RFPs/RFIs, Responses to Questions, etc..)
Posted Date: May 3, 2011
RFI – 100 Year Starship Study.pdf (83.14 Kb)
Description: RFI – 100 Year Starship Study
Contracting Office Address:
3701 North Fairfax Drive
Arlington, Virginia 22203-1714
Primary Point of Contact.:
Paul Eremenko, Program Manager, DARPA/TTO
100YSS@darpa.mil
Solicitation Number: DARPA-SN-11-41
Agency: Other Defense Agencies
Office: Defense Advanced Research Projects Agency
Location: Contracts Management Office
Solicitation Number: DARPA-SN-11-41
Notice Type: Special Notice
GENERAL INFORMATION
Notice Type: Special Notice
Posted Date: May 3, 2011
Response Date: Jun 03, 2011 12:00 pm Eastern
Archiving Policy: Automatic, on specified date
Archive Date: June 6, 2011
Original Set Aside: N/A
Set Aside: N/A
Classification Code: A — Research & Development
NAICS Code: 541 — Professional, Scientific, and Technical Services/541712 — Research and Development in the Physical, Engineering, and Life Sciences (except Biotechnology)
Synopsis:
Added: May 03, 2011 1:44 pm