Colorado Students Participate in Record-setting Launch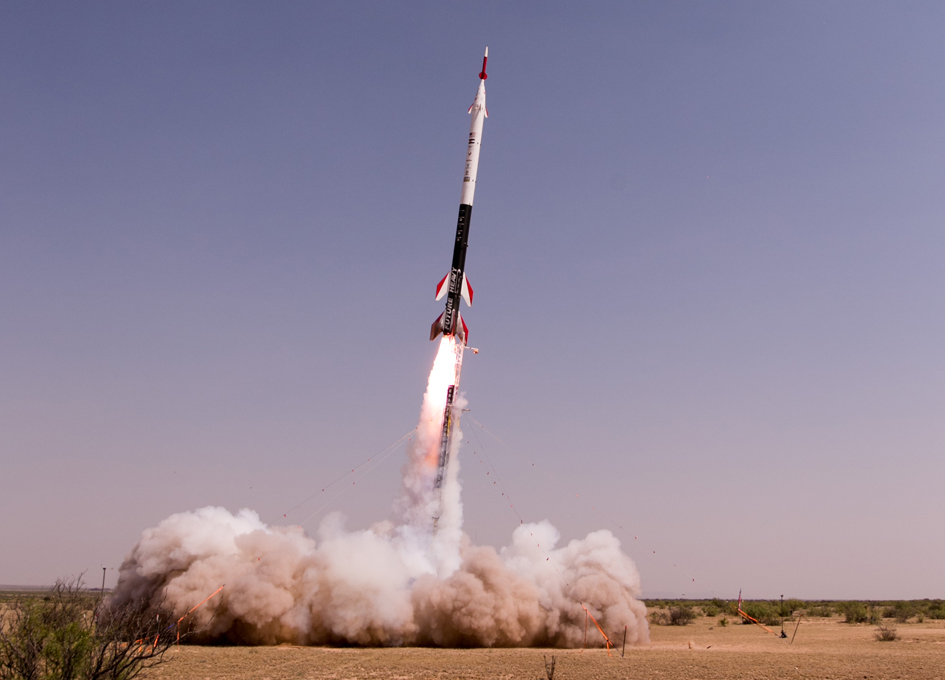 A 53-foot-tall high-power sport rocket carried payloads thousands of feet above the New Mexico desert today at Spaceport America.
United Launch Alliance (ULA) summer interns designed, built and launched the Future Heavy rocket, which carried 16 payloads (experiments and instruments) built by K-12 students, Ball Aerospace mentors and a combined ULA/Roush Industries team. The rocket launched at the Spaceport America Cup International Intercollegiate Rocket Engineering Competition in association with the Experimental Sounding Rocket Association (ESRA).
Future Heavy is the largest sport rocket to launch anywhere in the world, breaking the record set previously by ULA in 2016, when the rocket towered at 50 feet. The launch marked the culmination of an experience designed to simulate a real-life launch campaign and inspire students from kindergarten through graduate school to pursue careers in science, technology, engineering and math (STEM).
"The future of the space industry lies in the interns and students designing, building, and launching Future Heavy and the payloads it carried," said Tory Bruno, ULA president and CEO. "United Launch Alliance continuously works to encourage the next generation of rocket scientists, astronauts, space entrepreneurs and enthusiasts. The sky (and physics) is the limit on the creativity and ingenuity at the Student Rocket Launch."
Working on their own time, ULA interns designed, built and launched the rockets with the guidance of mentors, and Ball Aerospace mentors volunteered their time to create and test their payload. Altogether, more than 50 interns and 8 mentors from ULA along with Ball mentors participated in the 2017 event.
ULA and Roush Industries teamed up on a payload to test next-generation technology planned for use on future ULA rockets. The ULA and Roush payload will test a number of Integrated Vehicle Fluids (IVF) system components. IVF uses an internal combustion engine, manufactured by Roush Industries, that runs on propellant boil-off, otherwise vented to waste, to provide power to enable long-duration missions for the upper stage.
The Future Heavy and its payloads weighed in at more than 1,350 pounds and generated approximately 8,000 pounds of thrust off the launch pad. The K-12 payloads included a swarm of small gliders to gather atmospheric data, a test of various methods to harvest the energy of descent and a kindergarten parachute experiment.
"This program demonstrates a collaborative real-world aerospace industry partnership and experience," said Rob Strain, president of Ball Aerospace. "We are proud to be supporting the next generation of space leaders."
Ball designed, built and tested the largest payloads including: a black box data recorder; an environmental sensor suite with on-board data storage; accelerometer, pressure, temperature and humidity sensors; and a parafoil using ram-air inflation.
Earlier this year, ULA's Greg Arend, who leads the Student Rocket Launch project, received the Distinguished Engineering Educator Award by the Engineers' Council for his work on the program over the last five years. Over that time, hundreds of interns across all five of ULA's sites participated in this unique, hands-on STEM activity and worked to build Future Heavy, the world's largest high-powered sport rocket.
About United Launch Alliance
With more than a century of combined heritage, United Launch Alliance is the nation's most experienced and reliable launch service provider. ULA has successfully delivered more than 115 satellites to orbit that provide critical capabilities for troops in the field, aid meteorologists in tracking severe weather, enable personal device-based GPS navigation and unlock the mysteries of our solar system.
For more information on ULA, visit the ULA website at www.ulalaunch.com, or call the ULA Launch Hotline at 1-877-ULA-4321 (852-4321). Join the conversation at www.facebook.com/ulalaunch, twitter.com/ulalaunch and instagram.com/ulalaunch.
About Ball Aerospace
Ball Aerospace pioneers discoveries that enable our customers to perform beyond expectation and protect what matters most. We create innovative space solutions, enable more accurate weather forecasts, drive insightful observations of our planet, deliver actionable data and intelligence, and ensure those who defend our freedom go forward bravely and return home safely. For more information, visit the Ball Aerospace website at www.ball.com/aerospace. Join in the conversation at www.facebook.com/ballaerospace/ and twitter.com/BallAerospace.
About Spaceport America
Spaceport America is the first purpose-built commercial spaceport in the world. The FAA-licensed launch complex, situated on 18,000 acres adjacent to the U.S. Army White Sands Missile Range in southern New Mexico, boasts 6,000 square miles of restricted airspace, low population density, a 12,000-foot spaceway, and 340+ days of sunshine and low humidity. With 38 vertical launches and 8 horizontal missions to date, some of the most respected companies in the commercial space industry are customers at Spaceport America: Virgin Galactic, SpaceX, UP Aerospace and EXOS. Visit http://spaceportamerica.com and http://gatewaytospace.com for more information.
Social Media Channels:
twitter: @Spaceport_NM, @Spaceport_Cup
facebook: @SpaceportNM, @SpaceportAmericaCup
Instagram: @Spaceport.America, @SpaceportAmericaCup
Facebook Live Stream:
https://www.facebook.com/spaceportNM/
#SACup17 #SpaceportAmericaCup #IREC17