From Surviving in Space to Thriving In Space: Closing the Human Factors "Technology Gap"
April 26 @ 11:00 am

-

12:30 pm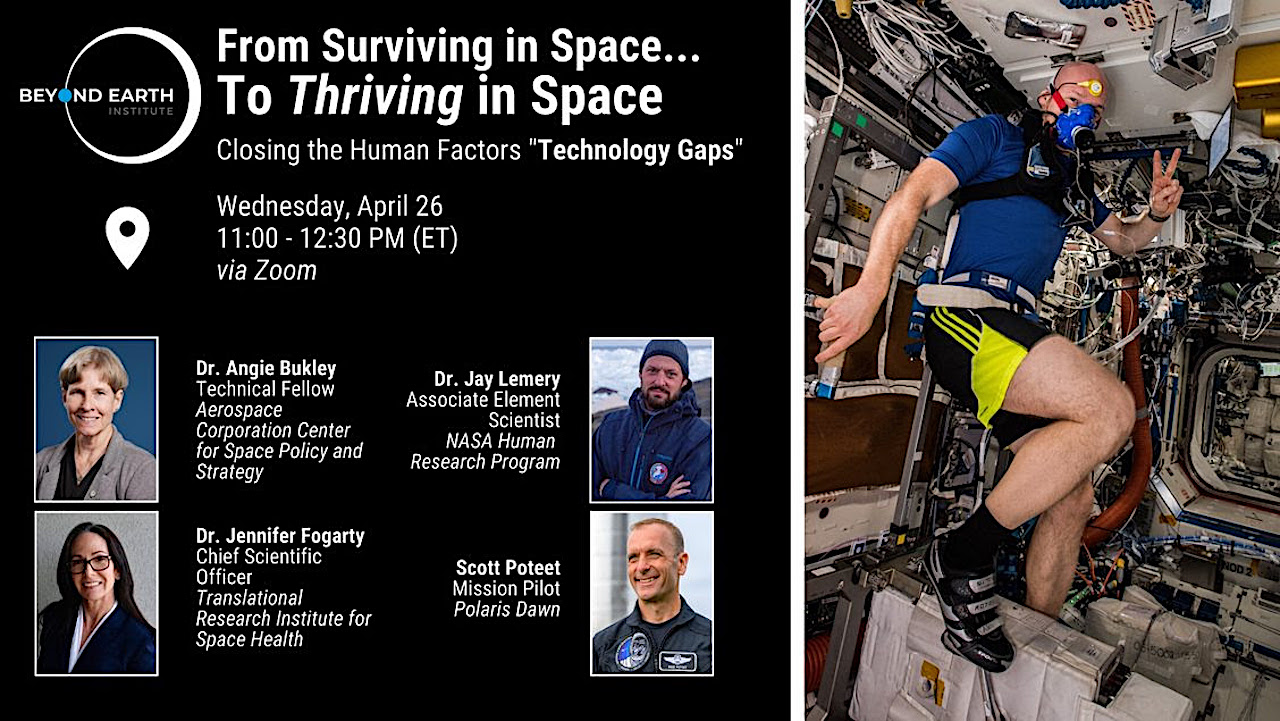 "Building a Policy Framework to Enable Communities Beyond Earth!"
The Beyond Earth Institute Presents:
From Surviving in Space to Thriving In Space: Closing the Human Factors "Technology Gap"
Wednesday, April 26, 2023, 11:00am – 12:30pm EST
The Beyond Earth Institute (Beyond Earth) will be hosting a virtual policy event titled "From Surviving in Space to Thriving In Space: Closing the Human Factors 'Technology Gap'" on April 26, 2023 from 11:00am-12:30 pm Eastern Time via Zoom. The event is free with donations suggested. Tickets can be obtained at the following link: https://buytickets.at/beyondearthinstitute/889245
There's no question that humans are best adapted for a life on Earth – as spaceflight has proven quite harsh on the human body. NASA has a substantial archive of experimental data on the harmful physiological impacts of spaceflight, from "space anemia," to disruption of vision, to the weaking of bones from prolonged microgravity exposure. But, by its own admission, the agency has a long way to go to fully understand the scope of spaceflight's health effects – and, as important, how to meaningfully mitigate the worst of them.
While the United States actively drives forward toward a crewed return to the Moon and is envisioning a sustained long-duration human presence on the lunar surface, its Human Research Program – responsible for investigating, and dealing with, risks to human health in space – manages by on a tightly constrained budget. And although there are engineering solutions to human spaceflight health challenges, such as artificial gravity, they have not been widely embraced in our current exploration architecture.
If humans are not only to survive in space but thrive in space – as explorers in the depths of the solar system, and as citizens beyond Earth – it is critical that steps be taken to better understand the impact of the space domain on the human body. Likewise, we must identify and pursue the essential mitigation practices, capabilities, and technologies that will be needed for humans to remain healthy indefinitely in space.
In this April webinar, the Beyond Earth Institute has gathered the foremost experts on human health in outer space, for a clear-eyed discussion on how much farther we need to go, and what more can be done in policy, to support the acceleration of this critical research area.
Speakers:
Moderator: Cody Knipfer, Policy Analyst, Beyond Earth Institute
– Dr. Angie Bukley, Principal engineer in the Center for Space Policy and Strategy, Defense Systems Group, The Aerospace Corporation
– Dr. Jay Lemery, Associate Element Scientist for Exploration Medical Capability, NASA Human Research Program
– Dr. Jennifer Fogarty, Chief Scientific Officer, Translational Research Institute for Space Health
– Scott Poteet, Mission Pilot, Polaris Dawn