Earth From Space: The Bay Area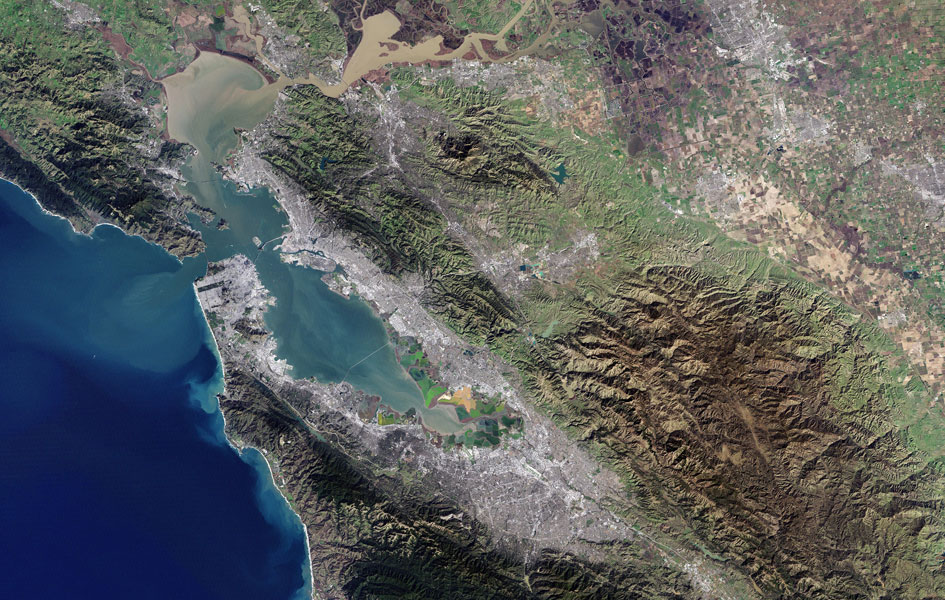 This image, acquired by Landsat-7 on 2 January, shows the San Francisco Bay Area in the US state of California.
The bay is actually an estuary, where waters from the Sacramento and San Joaquin rivers meet the Pacific Ocean.
In the upper section of the image, we can see the rivers' delta and the brown, sediment-filled water flowing down into the bay.
The colourful patchwork in the centre of the image is a collection of wetland areas including salt ponds, salt marshes and mudflats.
The bay's shores include a number of wildlife refuges. This area is an important stop for migratory birds, and exposed bay muds provide important feeding areas for shorebirds.
The city of San Francisco is on a peninsula in the centre left section of the image.
Zooming in, we can see the Golden Gate Bridge which crosses the opening of the bay into the Pacific Ocean between San Francisco and Marin County. Completed in 1937, the suspension bridge has a main span length of 1280 m.
What appears to be a straight line running diagonally from the San Francisco Peninsula down through the forest is the San Andreas Fault. This is the border of two tectonic plates, and is responsible for the high earthquake risk in the area.
In contrast to the densely populated urban areas surrounding the bay, the Los Padres National Forest appears dark green in the lower portion of the image, and the Diablo mountain range to its north and east is mainly private ranch land and parkland.
Landsat-7 imagery accounts for the largest parts of Earth's surface displayed on web mapping services such as Google Earth and Google Maps.